Hey guys!
2018 is gonna be the year I get my reading life in order. I don' t know why, but my 'Want to Read' shelf on Goodreads had me stressed out last year. I spent many hours deleting books I had lost interest in reading so I could bring the number down to as low as possible. My count for this shelf is currently around 320. My goal is to at least try to get it down to 250 by the end of 2018. So that means binge-reading a few backlist series that I've been meaning to get to for a while now. I'm going to stop making excuses and finally cross the following books/series off my TBR!
Let's begin!
---
THE EDGE OF NEVER SERIES by J.A. REDMERSKI
(New Adult, Contemporary, Romance)
I am a die-hard fangirl for Redmerski's In the Company of Killers series, but I've been putting off reading her other books for years. I've had the physical copy of this series collecting dust on my shelf for more than two years now and I'm finally pushing myself to read them this year. These books a quite thick and to be honest, I'm a little bit intimidated by them. I haven't read a physical book in years so hopefully I can get through these two books in a week!
WELCOME TO THE POINT SERIES by JAY CROWNOVER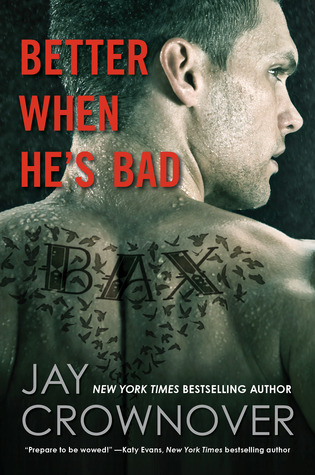 I've been putting off reading this series because I don't like the covers. I swear, Jay Crownover is forever getting screwed over when it comes to covers because most of them aren't very good. But I love Jay's books and her writing and her heroes are some of my favorites, so I'm gonna buck it up and finally read this series. I hope it's as good as her Marked Men series!
HE WILL BE MY RUIN by K.A. TUCKER
(Thriller, Suspense, Romance)
I had originally plan on reading this book when it released, but the mixed reviews made me put off reading it. But I want to read all of Tucker's books this year so I'm hoping it's not as bad as everyone says.
BURYING WATER SERIES by K.A. TUCKER
(New Adult, Contemporary, Romance)
Continuing with my K.A. Tucker clean-up, I plan on finally finishing the Burying Water series. I read the first book back in 2016 and loved it and I can't wait to see what the rest of the series is all about.
GRAVITY SERIES by SARINA BOWEN
(New Adult, Contemporary, Romance, Sports Romance)
I've literally read all of Sarina's book except for this series. I know it's her least popular series so I don't have high expectation going into it but I just hope they're not completely horrible.
HOW TO DATE A DOUCHEBAG by SARA NEY
(New Adult, Contemporary, Romance, Sports Romance)
My blogger friend, Deanna, is forever raving about this series so with the fourth book releasing this year, I think I'm going to finally pick this series up. Plus, I want to read more sports romance this year so I'm crossing my fingers that these bad boys will deliver.
---
Have you read or are you planning on reading any of these books/series? If you have or are, let me know in the comments!